"What is the difference between fleece and sherpa blanket hoodie? How should I choose?"
While purchasing a blanket hoodie, many people have the above questions. For those who do not know the material of clothes, they don't know the difference between these two materials. So when the blanket hoodies of these two materials are available for them to choose, they often hesitate to choose which one. Here is a blog to tell you the difference between these two materials and help you choose which fabric best suits your needs.
Part 1: What Is a Sherpa Blanket Hoodie?
Sherpa Blanket Hoodie is a type of blanket hoodie made from Sherpa fabric.
What is sherpa fabrics? Sherpa is made out of synthetic materials like polyester. Sherpa is sometimes also called faux-sheepskin or faux-shearling because it was designed to imitate the sheepskin-lined coats worn by the Sherpas. Nowadays, people advocate protecting animals, and Sherpa fabrics meet people's needs, which are as warm as wool without harming animals. This fabric is soft as well as lightweight. It has two sides, one side is a knit shell and another side is a smooth and soft villus.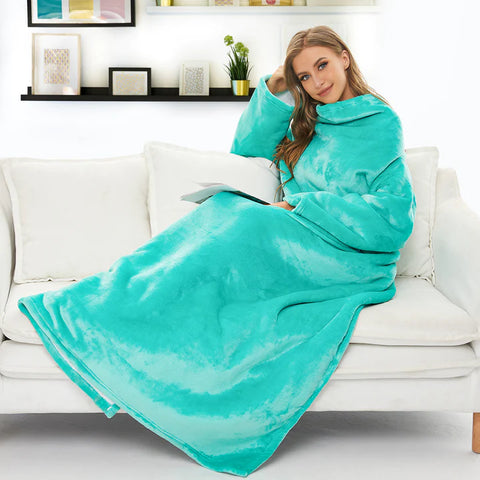 Pros and Cons of Sherpa
Warm as wool
Moisture-wicking
Usually used as a lining material
More expensive than other winter fabrics
Part 2: What Is a Fleece Blanket Hoodie?
Fleece Blanket Hoodie is a type of blanket hoodie made from fleece fabric.
So what is fleece fabrics? Fleece is a synthetic fabric, made from polyester. Fleece has many styles, such as polar fleece, microfleece, lycra-blend fleece, and french terry fleece. Fleece blanket hoodie is fluffy and soft, bringing a comfortable experience to people.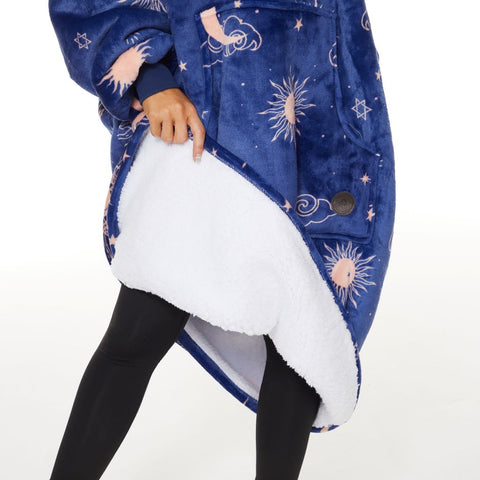 Pros and Cons of Fleece
Affordable 
Moisture-wicking
Have many styles 
Usually used in winter clothes, not just as a lining
Not as soft as a Sherpa
Part 3: Difference Between Sherpa and Fleece Blanket Hoodie
Thickness
Sherpa fabrics are a thin and flexible lining material. So sherpa blanket hoodie's thickness and thinness fall between the sheepskin and cotton.
Fleece fabrics are often used in coats, jackets, or other winter clothes. Compared with sherpa blanket hoodie, fleece blanket hoodie is thick enough.
Warmth
Both sherpa and fleece blanket hoodie can keep people warm.
Sherpa is designed to imitate sheepskin and wool, although it is not thick enough, many people think that it's warmer than wool.
Fleece can trap people's body heat and provides lots of warmth through the soft, brushed nap. But not as warm as the Sherpa.
Softness
The softest of the winter fabrics is sherpa. That's why many baby items are made from sherpa fabrics.
Fleece fabrics are generally soft, but some fleece fabrics may feel a bit scratchy to the touch. So fleece fabrics are not as soft as a Sherpa.
All in all, these two blanket hoodies are both warm and soft. But the biggest difference between these two is the softness and thickness of the two fabrics. Sherpa is mostly used as a lining material, so thinner but soft. And fleece can use on its own as a jacket or a blanket because of its weight and thickness.
Price
The price of a blanket hoodie usually depends on the cost of the fabric.
Compared to wool, sherpa is much cheaper than it but it's more expensive than fleece fabrics.
So the price of the Sherpa blanket hoodie is slightly higher than the fleece blanket hoodie.
Part 4: How to Choose Sherpa or Fleece Blanket Hoodie?
The softness
The weight
The thickness
Price  
After know about sherpa and fleece, let's talk about how to choose a sherpa or fleece blanket hoodie.
We can choose depend on the above 4 points. For example, if you need a lightweight blanket hoodie, you can buy a sherpa blanket hoodie. If you need a soft and thick blanket hoodie, you can choose a fleece blanket hoodie. If you don't have high requirements for thickness and softness, then you can choose according to the price you can afford.
Conclusion
Now you know the difference between sherpa and fleece after reading this blog. Try to buy the blanket hoodie according to your needs! Hope this blog can help you choose the blanket hoodie you fit.