On cold days, we often wear a lot of clothes to keep warm. But wearing too many clothes will make us bulky and inconvenient. So if we want warmth and lightness, the Three Poodle wearable blanket is the best choice. It not only covers most of our bodies but is also warm and comfortable.
Part 1: Introduction
Three Poodle is inspired by the animals that use fur to keep warm in winter and design the wearable blanket to help people through the cold days.
We are a young and energetic brand, which is dedicated to creating a comfortable and warm life for the young and old, men and women. 

There are various kinds of Three Poodle wearable blankets, such as TV blanket, animal hooded blanket, and wearable blanket hoodie. The wearable blanket hoodie not only has wearable blanket for adult and extra-long wearable blanket but also have kids wearable blanket. Perfectly meet any needs.
The Three Poodle wearable blanket also has some unique design. For example, with the large pocket in front of the wearable blanket, you don't need to bring a bag if you just go out for a while because it can easily hold most of your things. And the lovely print and cute ear design meet the needs of customers for the appearance of clothes.
Part 2: Why do We Need a Wearable Blanket?
Keep Warm and Cozy
Three Poodle wearable blanket uses super soft Sherpa fleece as the material. It's easy to wash, can be washed by hand or machine, and stay soft after washing it.
We hope to bring warmth and a comfortable experience at the same time.
Comfort and Convenience
Compared to traditional blankets, wearable blankets can fit your body. You don't need to hold on to the blanket every time to avoid it slipping off your body. So you can wear it to do anything you want, like watching TV, eating, walking the dog or napping, etc.
The oversized design can cover most of your body, and won't make you feel tight so you can easily tuck your legs up into the plush wearable blanket hoodie. And it will not drag to the floor even the extra-long wearable blanket.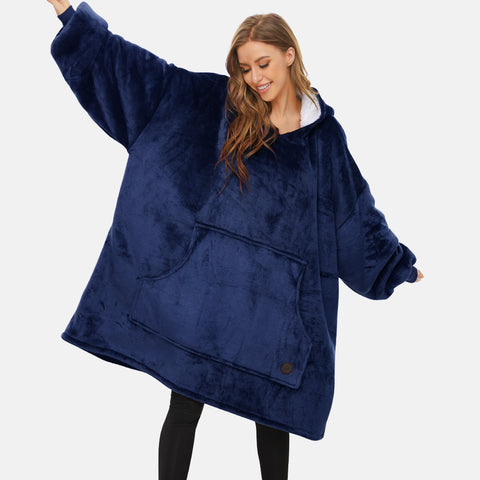 Part 3: What Our Customers are Saying?
"Very comfortable and warm. Great for car trips too."
"Fun, soft, sewn nicely and good size for snuggling up in. Love the variable ways to wear (snaps to create arm holes) ... All in all a great gift!"
"Simply put, just a fantastic product. Plush, soft and very warm. Walking my dogs out on the trail is way more bearable in the -30 temp now. The entire hoodie stops wind completely and the hood protects my neck. For anyone that's had spinal fusion, you'll know how important that is."
"If you are a person who always finds yourself cold at home but move around a lot, this is the thing for you. Walk freely while feeling. Like the inside of a stuffed animal. Your worries are gone, your stresses are no more. Buy it."
Conclusion 
I believe you have some knowledge about Three Poodle after reading this blog. Now it's your time to put on the wearable blanket and enjoy your warm and cozy journey!
If you have any questions about Three Poodle wearable blanket, please don't hesitate to contact support@threepoodle.com. We will help you sincerely.